Top Varicose Vein Home Remedies to Help Relieve Discomfort in Legs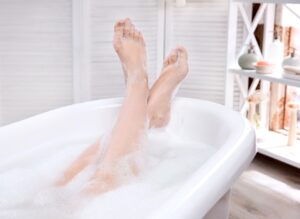 According to the National Institutes of Health, 60% of men and women are affected by varicose veins. Left untreated, you may experience bleeding, blood clots, infections, rashes, or sores. It is important to understand your treatment options–including home remedies.
Some of the most common home remedies include avoiding prolonged standing or sitting. Another popular treatment involves elevating your legs, particularly after a long day.
Now let's take a deeper dive into home remedies for varicose veins.
Can You Treat Your Varicose Veins at Home?
Yes, you can successfully reduce or eliminate the effects of varicose veins with remedies right at home. While you can help with the symptoms, home remedies often are not enough to cure your varicose veins.
Home Remedies for Varicose Veins
These popular simple home remedies can help prevent worsening symptoms of your varicose veins.
Compression stockings
You can use compression stockings to improve your circulation, whether you're already experiencing varicose veins, or need to mitigate the effects of prolonged sitting or standing. We can offer custom-fit solutions, or we may suggest a local medical supply company in the area to purchase custom-fit stockings.
Eat flavonoids
Eating fruits and vegetables loaded with antioxidants will support your varicose veins by strengthening your blood vessels and improving their function. These foods include:
Apples
Berries
Broccoli
Garlic
Green tea
Onions
These foods can also reduce and eliminate inflammation which leads to varicose veins.
Eat high-fiber foods
High-fiber foods like beans, fresh fruits, lentils, nuts, seeds, vegetables, and whole grains make your veins and arteries stronger and more flexible.
Epsom salt
Soak in a bath with Epsom salt to reduce inflammation and swelling. You can use Epsom salt daily to reduce symptoms from your varicose veins.
Exercise
When you regularly exercise, you improve your blood circulation while lowering your blood pressure thus reducing the likelihood of experiencing varicose . Here are some examples of exercises you can do:
Cycling
Swimming
Walking
Yoga
Exercise will help you to feel better, and you'll also mitigate the appearance and worsening effects of your varicose veins.
Hot & cold compresses
Use compresses to reduce the inflammation and swelling in your feet and legs. You can alternate hot and cold to relax your muscles and improve circulation.
Massage
Proper massage techniques can help improve your circulation while reducing the pain and discomfort in your legs and feet. It can also help you reduce stress levels which can affect your varicose veins.
Stop smoking
Smoking reduces the flow of blood and increases plaque buildup. Stop smoking and you will positively affect your varicose veins and the rest of your body as well.
Next Step: Consult with Vanishing Veins Northwest
At Vanishing Veins Northwest, we help you to understand how home remedies can help your varicose veins. We offer recommendations for helping to mitigate the pain and discomfort.
Call us at 425-277-8346 (VEIN) to Schedule Your Appointment Today!